The impact of the Safety System to the experience, operating costs and investment
In an aerial adventure park (high ropes course, zipline), the belay system is of crucial importance due to its huge impact on safety level, customer experience, operating costs and investment.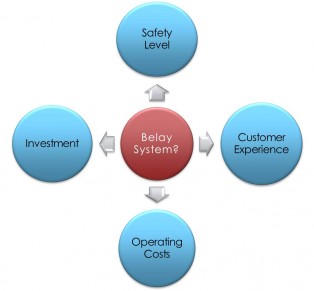 On the market the following main technologies are available:
Assisted Belay: Usually reserved for developmental ropes course
Safety Net: Reserved for limited applications and relatively expensive
Self Belay: The traditional system with two carabiners
Permanent Belay: The two carabiners can not be opened simultaneously
Continuous Belay: The guest is continuously connected to the lifeline
The belay system is a PPE (Personal Protective Equipment) and has the role, in any circumstance, to protect the life of the guests. Do you want peace in mind or take a risk of accident?
Great Customer Experience
Offer more value: Fun, Adrenaline, Safety on one side and Profitably, Sustainably on other side... these challenges are not contracting - you can fulfill both !
Saferoller leads the adventure park to a new dimension, just a few examples:
The belay device totally cares for the safety (passive system), no risk!
Handlings are reduced to a minimum (no carabiner): High comfort and flow
The core of the activity is now exclusively the fun and thrills
A perfect sequence between relax (platforms) & fun zones (elements)
With lifeline above guests (optional), simple elements can turn to be very impressive
Possibility of freeing the platforms and elements of all cables at mid-height resulting in even higher comfort, higher flow and challenges tailored to customers' level (just +/- stand at the lanyard)
Possibility of organizing exciting night sessions in a safe environment
Possibility of building a parallel contest for exclusive events !
Reduce your Operating Costs
Drastically reduce your recurring operating costs: Depending on the safety system, the needs for instruction, training and supervision significantly differ and have a direct impact on your recurring operating costs: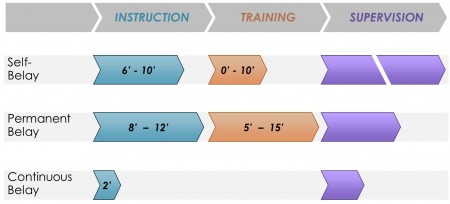 Optimize your Investment
Invest for more Safety and get a higher Profitability: Saferoller belay system requires much less maintenance, instruction, training and supervision. The significant reduction of operating costs impacts your profitability.
"Payback" or "TCO" concepts can help you to take the right decision! They consider not only the investment but also the annually recurring operating costs :
Payback: Period of time required for the return of an (additional) investment
TCO: "Total Costs of Ownership" of an investment on a given period including the operating costs
Aerial Adventure parks and Zip-lines are great outdoor activities in numerous aspects; having fun while doing some physical activities, contact with nature high on the trees, testing your courage and overcoming your fears! But these activities make only sense in an absolute safe environment and we provide the right safety equipment including the simplicity of use.
Ensuring maximum fun to all visitors in an absolute safe environment is just one of our aims. Our safety solution also ensures that your business can be run with the highest efficiency for a profitable and sustainable operation.