Please note that our shop is a RFQ (Request For Quote) service. Add any product and quantity to your cart and send your quote request to us. We will respond asap with a final quote based upon quantaties and delivery address.
Designed for high throughput, FlightLine features an exhilarating, true free fall with a soft catch and eddy current magnetic braking for smooth and consistent braking, as well as staged universal braking system for a variety of user weights.
FlightLine is mountable on platforms at least 18.3 meters (60 feet). Special ripcords can accommodate platforms up to 24.5 meters (80 feet).
FlightLine Redundant Free-Fall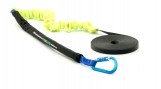 FlightLine Replaceable parts & Accessories

Take adventure to new heights with the FlightLine Free ...
Sales price without tax:
15.307,00 €