Please note that our shop is a RFQ (Request For Quote) service. Add any product and quantity to your cart and send your quote request to us. We will respond asap with a final quote based upon quantaties and delivery address.
Saferoller, a continuous safety solution with an integrated trolley for transporting people in high ropes courses and adventure parks. The easy handling of this Swiss system makes it suitable for the whole family and a good fit for children's courses. Saferoller is easy to install and requires only little staff for instructions and surveillance of the park.
Saferoller Continuous Belay

Saferoller Cable Layer: The Cable Layer provides the ...

Saferoller Zipline Clamp for zipwires upto 400 meters. ...

SAFEROLLER® anti-return device "Removable Shark" The ...

The Saferoller Bifurcation - fork: The bifurcation is a ...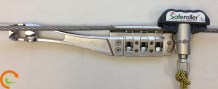 Saferoller Mono Clamp for elements / zipline's upto 100 ...

Saferoller Carebiner: Finally the last link is secured. ...

High quality Swiss made Swivel Trolley (teflon wheels) for ...

Saferoller Intermediate Bracket for Tree-mounting: The ...

New, useful, fast and inexpensive - the adjustable lanyard, ...

Zipline Brake-block for continuous life-line system: Allows ...