Onze shop is ingericht als offerte systeem. Voeg de artikelen en aantallen toe aan de winkelwagen en vul de adres gegevens in. Na het versturen sturen wij u zo snel mogelijk een netto offerte inclusief verzendkosten.
Designed for high throughput, FlightLine features an exhilarating, true free fall with a soft catch and eddy current magnetic braking for smooth and consistent braking, as well as staged universal braking system for a variety of user weights.
FlightLine is mountable on platforms at least 18.3 meters (60 feet). Special ripcords can accommodate platforms up to 30.5 meters (100 feet).
FlightLine Redundant Free-Fall

Take adventure to new heights with the FlightLine Free ...
Verkoopprijs zonder BTW
18.000,00 €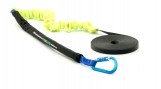 FlightLine vervangende onderdelen & accessoires