Towers, walls, challenge courses, you name it – adventure and high ropes courses combine a wide range of exciting and innovative climbing facilities, the majority of which are suitable for both indoor and outdoor use. There is nothing we can't do when it comes to the design of climbing parks. Our team of creative designers has years of professional expertise and understands what makes a distinctive, inventive, and exciting concept and how to implement it, assisting you in turning your climbing park into a commercial success.
Building a ropes course is an exciting and challenging endeavor that requires careful planning and execution. If you're considering building a ropes course, hiring ropes course builders is an essential step to ensure a safe and successful outcome. Skywalker is a leading ropes course builder that can help you design, construct, and maintain a course that meets your specific needs and budget.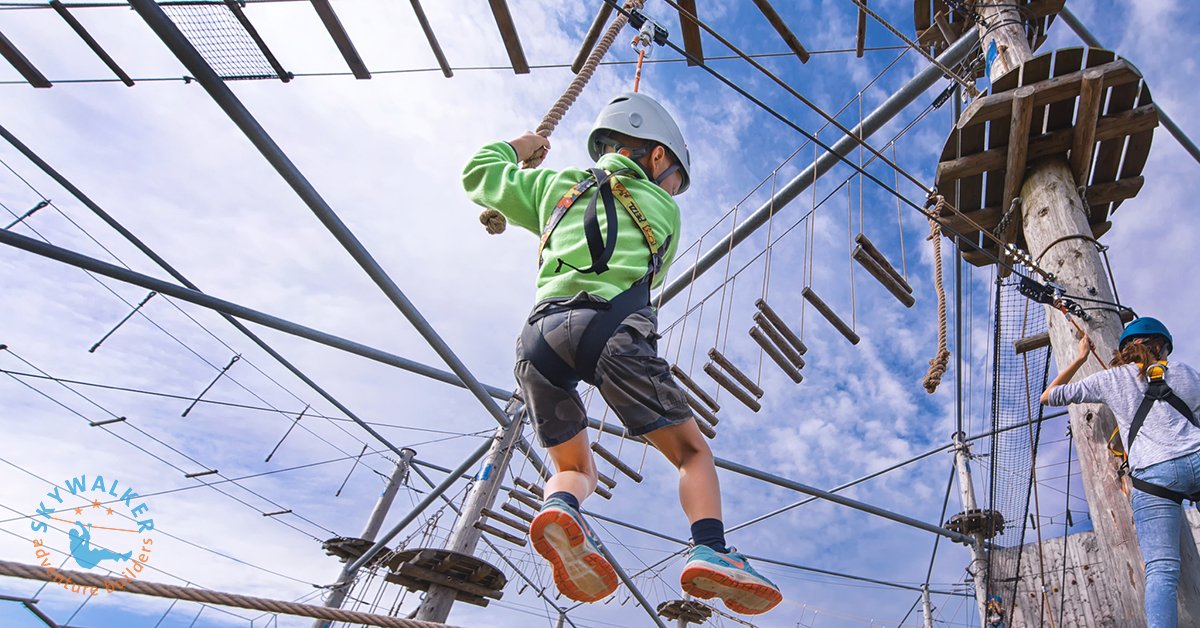 Designing a ropes course requires expertise and experience. Skywalker has a team of experienced designers who can help you create a course that maximizes the use of available space while providing a fun and challenging experience. We take into account the terrain, available space, and target audience to design a course that meets your unique requirements.
Constructing a ropes course is a complex process that requires the use of high-quality materials and equipment. Skywalker has the necessary resources to construct a course that is not only durable but also safe for all participants. We use materials that meet industry standards and regulations, ensuring that your course is of the highest quality.
Maintaining a ropes course is crucial to its longevity and safety. Skywalker offers maintenance services to ensure that your course remains safe and functional. Their team of experts inspects the course regularly, identifying any potential hazards and making necessary repairs to keep it in excellent condition.
Skywalker has a proven track record of building high-quality ropes courses that meet the unique needs of their clients. We work closely with you to understand your vision and requirements, ensuring that the final product meets your expectations. We are also provide ongoing support to ensure that your ropes course continues to meet your needs for years to come.
Our Challenge portfolio comprises the following product categories:
Adventure towers
Climbing trees and walls
High ropes and low ropes climbing courses
Innovative concepts for various indoor climbing facilities
Challenge activity courses
Ziplines, Flying Foxes, treetop walkways & Death Rides
Our climbing parks, on the other hand, aren't just for folks who wish to spend their free time doing something active. Our Adventure ideas are also ideal for company outings or employee activity days. In this context, Active Adventure climbing parks offer a diverse range of stimulating activities for all ages and abilities, from children to adults, individuals to families or groups of friends, people who enjoy the occasional physical activity (or simply want to try something new for a change) to the super-fit who exercise regularly.
Each climbing park has a series of subsequent activity courses that offer a variety of routes based on difficulty levels. Completing these courses adds to the development of co-operation and team spirit in visiting groups who face the courses together, as well as the individual confidence of each guest.
What do we offer?
Climbing parks are designed and built for a variety of businesses in the tourist, health, leisure, and recreation industries. Our Challenge climbing parks have been the first choice of many of our customers to either diversify pre-existing facilities on their site or to establish a new and environmentally friendly concept of recreational outdoor activities. Furthermore, combining our challenge courses or adventure parks with tourist resorts, as well as hotels, restaurants, and catering in general, provides a potential business prospect.
Designed to work in harmony with the surrounding environment
The Adventure and High Ropes Courses are built with the most stringent environmental standards in mind. We only utilize natural or environmentally friendly materials. No trees or the surrounding environment are harmed during the construction of our climbing parks on site. Our notion is backed up by current government health initiatives that encourage people to get active and reconnect with their natural surroundings.
Our products meet all European standards for climbing parks and high ropes courses in terms of quality and safety (NEN EN 15567-1, -2). Prior to their start operation, we arrange for a technical inspection of our climbing parks by an impartial body upon request. We also provide a maintenance agreement to ensure that any climbing park we provide remains operational and safe for users.