Basically, there is not much difference between the design of our activity courses for children and our courses for adults. However, we have lowered the overall difficulty levels according to the smaller body size and the shorter limb length of our younger climbing enthusiasts. In addition, all climbing activity courses designed for children are kept much closer to the ground. And it goes without saying that the safety measures in our ropes activity courses for children are of precisely the same high standards as in our climbing facilities for adults.
Standalone or integrated in an adults course: Kids love it!
Skywalker offers a standard course layout for children suitable for existing playgrounds as well as all Skywalker climbing and adventure parks. This layout is shown in the illustration below.
Standard layout comprising 8 activities
Ready-to-use
Permantent lifeline system for ultimate safety included
Includes all basic elements, such as platforms, bridges, etc (tree house optional)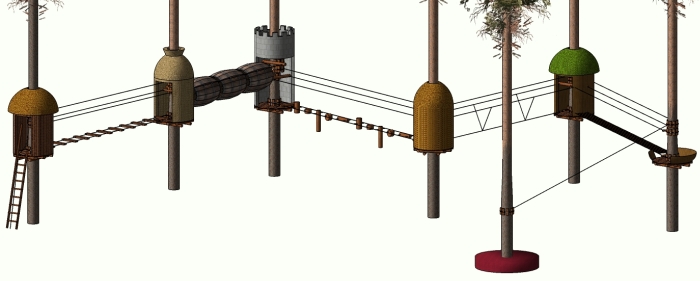 Our standard layout is also suitable for sites where no trees are available. Prices from € 20,900.- (not including VAT).