Which zipSTOP is right for your zip line?
Regardless of your zip line location or design, the zipSTOP Zip Line Brake is a great investment to help increase throughput, improve customer experience, mitigate risk and positively impact your bottom line.
But knowing which zipSTOP model is best for your operation can be tricky. We're here to help. See the infographic to figure out which zipSTOP model is right for your zip line: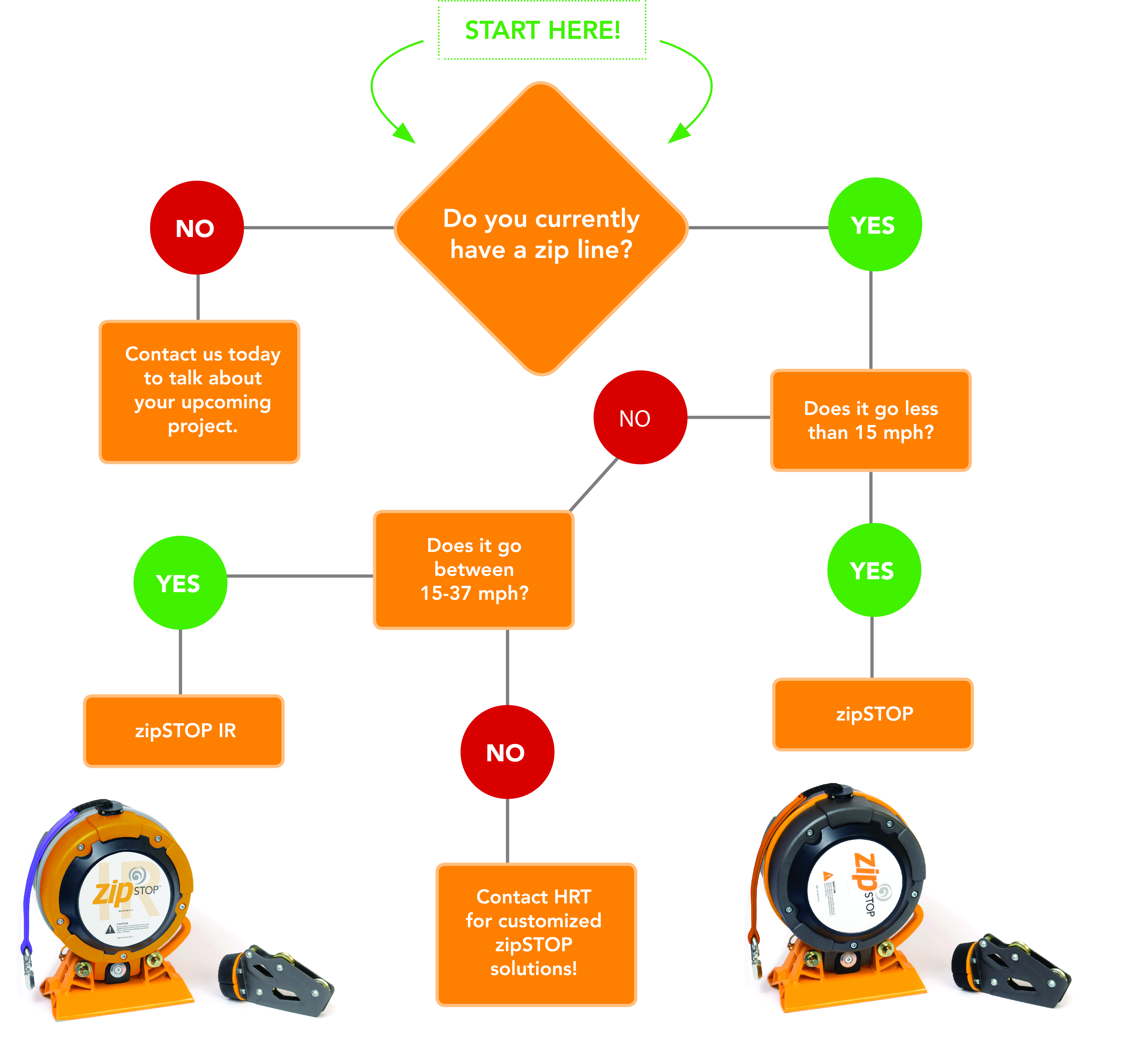 The main difference between the zipSTOP and zipSTOP IR is the reduction line. With the standard, some lines can operate at a 1:1 ratio, but many need to set up a reduction line system. With the IR, the reduction line is internal, eliminating the extra time and equipment for a reduction line (note this doesn't eliminate the need for a redirection line). While the zipSTOP is ideal for lines where the rider contacts the brake trolley at less than 20 mph, the zipSTOP IR is ideal for lines with arrival speeds between 15-37 mph.
About zipSTOP
The best brake for your zip line, zipSTOP uses a self-regulating magnetic braking system to brake riders smoothly, comfortably and consistently at a variety of speeds. Benefits of using a zipSTOP include:
Automatic reset between riders
Less risk from human error (like riders hand-braking)
Less operator risk (like guides manually braking riders)
Consistent braking for kids and adults alike
Low cost of ownership
Ability to operate in all weather conditions
zipSTOP Retrofit
Do you have a standard zipSTOP but think the IR is a better fit for your zip line? We can easily retrofit your standard zipSTOP to be an IR. No need to buy a new device – let us retrofit your current one.
Still have questions about how zipSTOPs fit into your operation? Contact us or email This email address is being protected from spambots. You need JavaScript enabled to view it. today to get all your questions answered.
Additional expert Information regarding Zipline technology
Interested to read more about Zipline technology and expert opinions?