Curvy Ziplines are a system that allows them to slalom, zigzag, and even spin, giving you an amazing experience. The suspense and the force of gravity in the curves is what makes the zip lines produce different sensations, that is why they are so exciting. The system uses metal tubes that are connected by cables. 
The Zipcoaster is a roller coaster that offers a unique and thrilling experience for riders. It is an inverted coaster, meaning that riders are suspended from an overhead track and travel at high speeds in a horizontal position. Our Jungle Coaster zip line is based on the same principles as roller coasters in amusement parks. It's a fun and exciting way to travel through the air. The cables are attached to trees or poles, and the system allows you to move them very quickly, with minimal impact on the environment.
The ZipCoaster is a thrilling and unique attraction that combines the excitement of a traditional roller coaster with the added thrill of zip lining. The ride begins with riders being strapped into a seated harness and lifted to the top of the coaster's track. From there, riders experience the rush of a roller coaster as they zoom down the track, reaching speeds of up to 50 mph.
But the ZipCoaster doesn't just stop at being a roller coaster - it also features a section where riders are detached from the track and sent soaring through the air on a zip line, providing an entirely different sensation of flying. This section is often the most exciting and thrilling part of the ride.
The ZipCoaster is a relatively new attraction, and is currently only available at a few select theme parks around the world. However, its popularity is quickly growing, and it's likely that we'll see more of these unique rides popping up in theme parks in the near future. The ride is designed to be safe for riders of all ages and experience levels, but it is recommended for those who are comfortable with heights, as it does feature sections where riders are high off the ground.
Overall, the ZipCoaster is a must-ride attraction for thrill-seekers and adventure enthusiasts. It's a unique and exciting experience that combines the best of roller coasters and zip lining, and is sure to provide an unforgettable experience.
The new, lighter carriage was made specifically to fit the tubes and is lowered along the track safely. The trolley's creative fixing system and engineering ensure that the rider never gets stuck. A braking system slows the cart as it approaches the participant, who is then safely suspended from the cart. In this way, they will be able to fully enjoy the sensations of the ride. We came up with a new form of zip lines that allows you to play with three dimensions.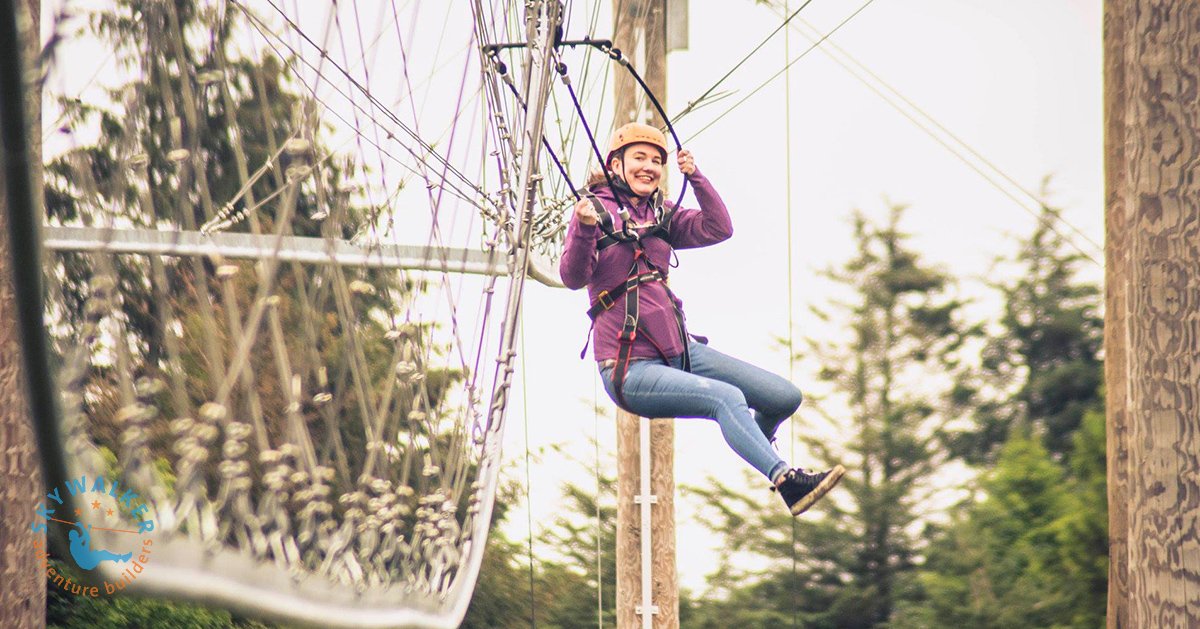 We are working on new zip lines that are based on tubular systems like the rollercoaster zipline. These systems will allow the zip line to be deviated from its route to avoid any artifacts that may be present in the terrain. This will also create loops and force ups and downs to modulate the speed of the user. This would allow us to create more linear meters of zip lines, in limited areas, which would make the most of the space along the route. We have redesigned the facility to make it easier to keep clean and in good repair. This helps us to offer the best possible prices and an improved user experience today.
The user experience depends on the speed with which we can move the cart, which is influenced by the unevenness of the ground and the type of pulleys that we use. Pulleys have wheels that help them be stronger and carry more weight. This makes it possible for the ride to travel much further before it needs to be stopped.
An anti-wobble system is used in the ZipCoaster ride to prevent it from moving too suddenly. The zip line model can be easily installed using a catenary system, and does not need as many anchor points as other models. The cable has a flexible connection that allows you to change the route if you need to, such as if a tree is damaged by natural causes or if you want to extend the length of the route in order to reach new destinations. The Curvy Zip Line is made to be installed outdoors in forests, using sturdy trees to help support it and giving people a fun experience in the middle of nature.
A play structure is a special type of structure used to provide children with fun and stimulating activities. These structures can be made of various materials, including poles and walls, and can be found in both urban and rural settings. Our Roller Coaster Zipline security system is designed to meet the highest security standards. Once installation is complete, an independent certifying company will certify that your new curvy zip line is ready to welcome your customers. We know our competitors and we know that our prices are very reasonable, which ensures the highest quality and customer service.
For a better use, we recommend layouts of at least 500 linear meters long. However, we also offer shorter routes that are 150 meters long. We can help you make the most of your new interest in your attraction, so you can reach new people. We'll be sure to investigate whether or not a curvy zip line would be feasible.
Additional articles on the ZipCoaster technology
Interested to read more about Rollercoaster Zipline technology and expert knowledge?