The challenge Lack of rider weight and/or environmental conditions such as head/side winds can cause the zip trolley to stop just short of the end of the zipline- and to exacerbate the problem, the zip trolley then rolls backwards, leaving the rider stranded half way along the zipline. The operator must then perform a time consuming, long distance rescue proceedure to retrieve the stranded rider. This can happen several times a day and can bring significant loss of throughput and earnings.
Some trollies in the market place are fitted with one-way locking bearings, which prevent the trolley from ROLLING backwards, but feedback has shown the one-way bearings do not prevent trollies from SLIDING backwards, often at significant speeds!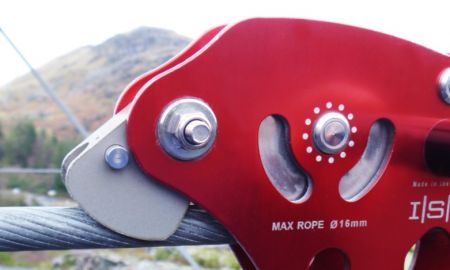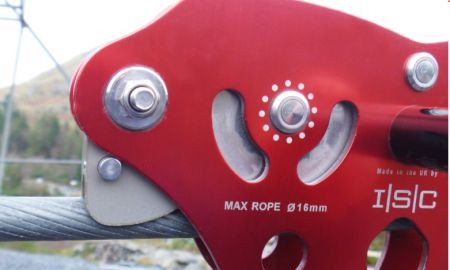 The Anti-rollback Cam is a simple device which can be retro-fitted to the ZipSpeed Trolley. During normal use, the cam remains disengaged, allowing the trolley to roll forwards, unhindered. However, as soon as the trolley begins to roll backwards, the cam is activated, bringing the trolley to an immediate halt. This anti-rollback function captures the progress of the trolley, which means that even when the trolley doesn't reach the end of the zipline, it cannot roll backward and hence rescue distance (and therefore, rescue time) is significantly reduced.
Can the ARC be used with braking systems? The Anti-rollback Cam (ARC) is great for use with braking systems! As soon has the braking system has completed its function in slowing and subsequently stopping the forward movement of the trolley, the trolley can often begin to roll backwards! If not caught by a member of staff (who may have multiple lines to supervise), the rider can soon after find him/herself stranded mid-way down the zipline!
The Anti-rollback Cam engages as soon as the zip braking system forces a change of direction on the trolley, causing the trolley to stop immediately. This gives the zipline supervisor the opportunity of dismounting multiple riders, without the need to physically prevent riders from rolling backwards out of reach.
Anti-rollback Cam (ARC) Features
- Stops all backward movement (whether caused by wheels rolling or sliding)
- Machined from solid Aluminium, with hard-Anodised finish
- Can be retro-fitted/replaced on site
- Cam can be disengaged using the spring-loaded locking button
- Weight 174g (6oz) 
Additional expert Information regarding Zipline technology
Interested to read more about Zipline technology and expert opinions?