The new speed device will offer the same reliability and quality reputation as the TRUBLUE Auto Belay but is made specifically for speed climbing.
With the growing popularity of speed climbing, speed climbing walls will be a norm in new climbing gyms. The TRUBLUE Speed is engineered to meet the core requirements for speed climbing auto belays set by the International Federation of Sport Climbing (IFSC).
The TRUBLUE Speed Auto Belay is engineered to maximize the retraction speed while still utilizing our patented magnetic eddy current braking for a gentle descent. The retraction time on the TRUBLUE Speed outpaces the IFSC standards and will be fast enough to outrun even the elite speed climbers of the world. The TRUBLUE Speed's retraction rate is 2.7 seconds for a 10m wall and 3.5 seconds for a 15m wall.
The eddy current braking technology used in Head Rush's TRUBLUE Auto Belays is also used in the TRUBLUE Speed Auto Belay. The eddy current brake technology is extremely reliable because it is friction-free, with no contacting parts in the braking system. The braking is smooth, low maintenance, and automatically adjusts to the climber's weight for a consistent experience across the widest weight range of any modular auto belay.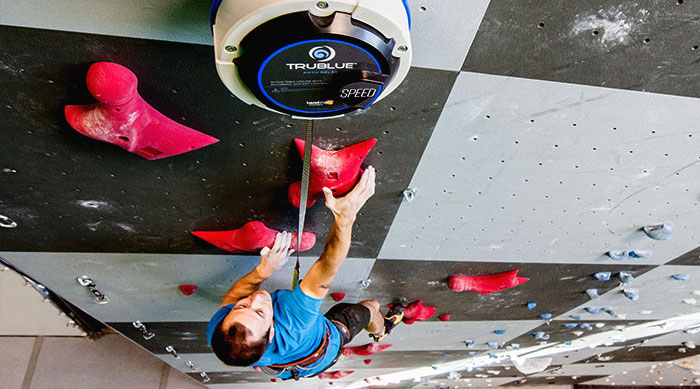 Additional expert Information regarding Auto Belay technology and advantages
Interested to read more about the Auto Belay technology and expert opinions?